Feature walls can be simple or complex, but the basic idea is always the same – to draw focus to a particular wall in a room, so that the other walls, ceilings and floor, become secondary to the area that you want to highlight. within this theres lots of scope for getting creative. If you'd like to work with us to create your own room with a feature wall, contact Sam at Room-Antics on 07833997043.
Here are ten top tips for feature walls.
1. Work with the room. Usually theres an 'obvious' wall that wants to be the feature wall. In a bedroom its often the bed wall. In a living room the fire place…..Here the recesses on either side of the chimney breast have been paited in a faded red to work with the bricks and tiled hearth.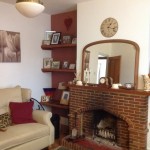 2. Simple ideas can work well. In this modern living room, all the walls have been papered in linen effect paper, but the chimney breast has an accent colour which is brought to life perfectly with the positioning of the abstract painting.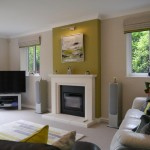 3.Work with your favourite things. In this conservatory, the wall has been painted with Japanese blossom, but its the combination of this and the vase and chest of drawers that make this feature wall special.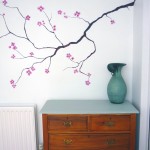 4. Calligraphy can be adapted to suit personalities: here keen climber Tola's initial has been given special treatment.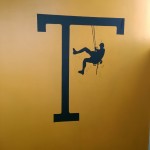 5. Wallpaper is wonderful. Choose one that works with the feeling you want to have while you are in the room. This Sandersons paper is all about the romance!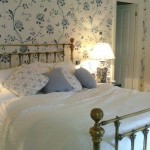 6. An inspirational message can be very nice to wake up to.
7.Think about the balance of colour in the room. Here the feature chimney breast works with a whole colour scheme and soft furnishings.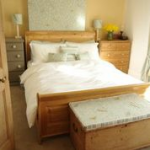 8. Try utilising an uninteresting section of wall to create an unexpected feature in a hallway or landing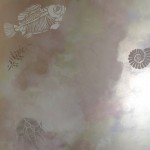 9. Sometimes the architecture of the building gives you your starting point.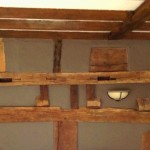 10. Don't be afraid of colour. Here purple paint has been sprayed to create an ombre effect, as a background to the stencilled trees and decoupage birds.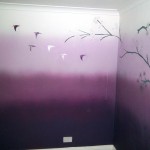 Have fun with creating your own feature walls. Thanks to Room-Antics customers for their creativity in working with us to create he feature walls above, and to Claire at MissMaker.com for her wonderful soft furnishings in no.7